SSRC Site Admin Guide
Last updated August 2020
Below are key aspects of this site. See the full PDF version of the admin guide for more details.
Theme | Colors | Fonts | Image Sizing | Unique Content Items | Plugins

Theme
Marshall v. 1.0.0 by WordPress*
Purchased from Template Monster on April 17, 2019
Order confirmation code: mIyjcTc7P0QzejYnXSw0
*important – this theme is created and sold by two different developers on the same site, the instance used for this site is the one created by WordPress

Colors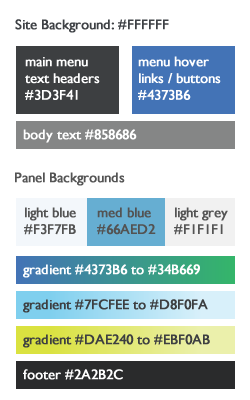 Site background: #FFFFFF
Main menu / text headers: #3D3F41
Menu selected / hover & links / buttons: #4373B6
Body text: #858686
Panel backgrounds:
Light blue: #F3F7FB
Med. blue: #66AED2
Light grey: #F1F1F1
Gradient (blue to green): #4373B6 to #34b669
Gradient (aqua blue): #7FCFEE to #D8F0FA
Gradient (olive green): #DAE240 to #EBF0AB
Footer: #2A2B2C
Fonts
Montserrat, sans serif
Header 1: 48px
Header 2: 40px
(special H2 for the link boxes: 28px**)
Header 3: 40px
Header 4: 24px
Body Text:  16px
Image Sizing
Homepage
Hero slider images:  2000 x 900px/ 150 dpi
Programs / Research / People columns: 370 x 250px
News and Member Icons (see below)
Programs
Logos for Programs Page – 370 x 198px
Logos for Program Details Page – 300 x 161px
Project Images – 300 x 200px
Research Icons – 50 x 50px
People Headshots – 250 x 250px
News Featured Image – minimum 1050 x 550px
All images should be resized correctly before upload.
Unique Content Items
Homepage Hero Piece – this is built using the Smart Slider plugin.
To add the slider to the site, a shortcode for the desired slider has to be added to the homepage using the WPBakery PageBuilder interface.
To do this:
To get the shortcode:
Go into the Smart Slider Dashboard (from the admin menu on the left) and click Edit on the slider you want to add to a page:
On the first screen you arrive at (General) – select / copy the shortcode from the Publish box:

Navigate to the homepage and enter Edit mode.
Expand the WPBakery Page Builder editor area:

Hover over the text area and then click the pencil over paper icon in the green box that appears:

Scroll to the top of the text and paste the shortcode directly in front of all the other text/content.
Click the blue "Save Changes" button at the bottom of the editing box.
On the right, click "Preview Changes" to be sure all appears correctly.
Return to the admin page and click "Publish" when it all feels ready.
IMPORTANT: Any time you edit other areas of the homepage using Power Builder modules, this shortcode code gets removed from the page. So, when doing other edits, you will need to save/publish those changes, then come back in to edit the page again and add follow this process to add the shortcode back in, and save again.
Plugins
The following are the plugins currently active on the site and their purpose / function on the site. Details for each and links to their developer sites are available from Plugins >Installed Plugins.
The Marshall theme was built using Cherry Framework and uses Power Builder as a page building tool.
Cherry Live Demo Mods Switcher
Part of the Cherry Framework used by the Marshall Theme.
Cherry Sidebars
Part of the Cherry Framework used by the Marshall Theme for sidebar creation.
Classic Editor
The classic WordPress editor interface.
Contact Form 7
Contact form plugin used for the contact page.
Duplicate Page
Gives the ability to duplicate a page from the Pages section to make creating a new page faster and easier.
Epic News Elements
Advanced news display plugin added to the site for the Phase 2 news page.
Google Analytics for WordPress by MonsterInsights
Connects the site to Google Analytics and provides dashboard functionality for quick views of key site usage data.
Intense
A shortcode plugin that enables a large variety of widgets, custom post types, snippets, icons, and more. Used for the drop down menu on the People page that lets visitors jump to a section on the page.
Modern Events Calendar Lite
Event calendar plugin used for upcoming events.
Page Links To
Allows page s and posts to link to off-site URLs. Used for news items that link directly to an external source.
Page scroll to id
Creates anchor tags which are used on the People page to enable the drop down menu jump down the page.
PHP Compatibility Checker
Enables a PHP compatibility check when trying to ensure new plugins or code won't create a PHP error or exception.
Power Builder
Drag 'n drop page building tool that comes with the Marshall theme.
Redirection
Enables admin access to set up 301 redirects and monitor 404 errors.
Responsive Tabs
Creates tabs that can be used for content display that are responsive.
Smart Slider &
Smart Slider Pro
Advanced image /video slider plugin used for the homepage hero piece.
Simple SEO
An SEO management tool that provides quick SEO field access and management.
Widget Importer & Exporter
Widget import/export tool that enables bringing in – and sharing out -widgets from other developers or sites.
WP File Manager
A file manager tool that lets admins access and manage site files directly.
WPBakery Page Builder
Advanced page building tool added to the site to support integration of plugins and modules that didn't come with the Marshall theme.
The following are plugins on the site, but which are currently deactivated.
| | |
| --- | --- |
| Easy Twitter Feed Widget | Enables embedding a Twitter feed onto a page. |
| Hide My Site | A plugin to block public access to the site with a PW protected page. |
| WordPress Importer Tool | Used on installation of the theme, this enables the import of posts, pages, comments, custom fields, categories, tags and more from a WordPress export file. |